105.5 XFM INTERVIEW
On Monday 6th May 7.30 am – 8.30 am at Lion Place
Fareed Khimani: as promised we have Paula Kahumbu back in studio with us this morning, well it?s kind of a follow up.
Paula Kahumbu: it is, yeah
Fareed Khimani: well come again by the way, you are now officially the most visited, the….. how do you put that…
Paula Kahumbu: Am your most frequent visitor. Oh My God!
Fareed Khimani: of 2013, yes! And also my only one, no am joking, you are not my only one but you are my most frequent one in 2013 coz you have been invited back again. And we will keep bringing you back as long as we are making progress in this battle that you have been doing for years, that you have exposed me to over the course of last couple of months and I have taken a keen interest in your work and the great work you are doing. For those are not aware of what Dr. Paula Kahumbu does, she saves lives of elephants and other wildlife but elephants
Fareed Khimani: I know it's much more, much more detailed than that but I know that the ultimate goal is to make sure that this senseless killing of animals stops, but you can tell us a little bit about yourself for those who didn't manage to catch us together few weeks back.
Paula Kahumbu: well first, thank you so much Fareed for inviting me back again, it?s another spectacular morning, I was thinking as I was coming in, you should invite me in more coz I bring on the sunshine
Fareed Khimani: You bring the sunshine! Imagine going back to school on the first day and it?s raining how awful that would feel?
Paula Kahumbu: today is just spectacular.
Fareed Khimani: it is beautiful
Paula Kahumbu: and it's a great day to also share with you that, since the last time we met which was just two weeks ago, so much has happened and I just want to tell you all about it but, the main thing was something which I actually put out on twitter because it was so phenomenon: the Director of Public prosecutions Keriako Tobiko, responded to what we've been saying and even in the letters we have been sending, not just me, I mean am here alone but if I was to bring in all the people who support me in this, this building would fall down.
We've been challenging the judiciary, to take these things more seriously and the DPP announced last week that his office is taking over the prosecutions of wildlife crimes. He actually talks about specifically about creating units in various parts of the country, to take on these crimes and the very first one is an incident in Nanyuki.
Couple of weeks ago, a rhino was killed. He was poached, speared by local people. The local community elders put out a curse, they threatened to get these guys through a curse if they didn't come and confess. They did, they came in and they confessed. They said we did it.
Fareed Khimani: they were scared about the curse
Paula Kahumbu: More scared of the curse than to go to jail. And actually if they go to jail, frankly in this country, the penalty will be forty thousand shillings they will probably pay that;
somebody will send the money via Mpesa. So they've killed the rhino which is worth about a million dollar.
Fareed Khimani: a million dollars
Paula Kahumbu: That?s the value of the rhino horns alone,
Fareed Khimani: Wow! And you are fined forty thousand!
Paula Kahumbu: and you are fined forty thousand, that?s what the law says. That?s how the magistrates have been handling it. We asked the DPP, Mr Tobiko to address this as a much high crime and he's taken this on. So these men have now been arrested, they are now in the cells, were prosecuted not just by the Kenya Wildlife service, but by the DPP's own representative from Nyeri, he was driven up to Nanyuki. They took on this case; these guys each of them were bailed at a million shillings, which is a record for this country, plus two sureties of a million shillings each, that means each of them had to raise three million shillings, if they were to get out of the cells. Of course they can't raise that.
Fareed Khimani: so they are there
Paula Kahumbu: so they are there and this is really is a test case. This is what we've been asking for so we are just so thrilled that finally its happening and it?s about time too because today is a special day, I don?t know if you know that the United Nation has just announced that as a body they recognize wildlife crime as a serious crime.
Fareed Khimani: Ok. That was today or that was…
Paula Kahumbu: that is happening today, there is a massive press conference happening at the UNEP.
Fareed Khimani: Super!
Paula Kahumbu: this afternoon, they have a famous Chinese movie star who is here especially for this. Her name is Li Bingbing, anybody who don?t know her please Google Li Bingbing. She is the most phenomenally beautiful actress in the planet and she?s going to be here. She has taken on the cause of elephants and she has come to Kenya we are extremely privileged. She is
working with UNEP with Save The Elephants and many other elephant conservation groups to save elephants. The United Nations are saying, for the first time in history, wildlife crime is not just killing of animals, we are putting human life at risk it's a security risk across the globe. It's attracting criminal cartels into Kenya and other countries which become hubs for illegal trafficking of wildlife products and timber. So this is a huge opportunity for us to really, you know. We started with a very small thing last week, a couple of weeks ago, actually it?s just, you know; moving like a rocket, it's just amazing.
Fareed Khimani: that's awesome. And now you talk about this Chinese actress and she is very beautiful Li Bingbing. Who, will be in UNEP today.
Paula Kahumbu: Stop Drooling!
Fareed Khimani: sorry. Let me close the page then and go back to twitter. But also obviously last time we spoke we said that a lot of these wildlife crimes is coming from the east, from far east and we spoke about a guy, I think he was Vietnamese if am not mistaken.
Paula Kahumbu: absolutely!
Fareed Khimani: so this particular figure head from China coming in to be sort of a face for the anti-poaching movement is a huge step forward for the Chinese government as well, I would assume or at least Chinese cinemas whatever the case maybe to actually say Hey Ho! This is our problem and we must deal with it and this is, now this is gonna be the face of sort of anti poaching movement from the East.
Paula Kahumbu: Absolutely, Li Bingbing is the second person to come to Kenya with the same mission, the other one was Yao Ming. Remember that famous Chinese basket ball player?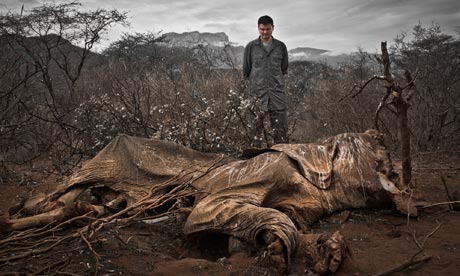 Fareed Khimani: sure! Absolutely the 7 foot 3inches. huge guy.
Paula Kahumbu: No! No! 7 foot 6 inches as
Fareed Khimani: 7?6, frankly he is the rocket. Brilliant!
Paula Kahumbu: he is amazing. Yes. It is extremely significant that we have Chinese super stars, celebrities, people who can influence the Chinese people. And people worldwide because
these are worldwide super stars, who are saying,; when the buying stops the killing stops too. So basically they are saying stop buying ivory. They are trying to appeal to the people of the world to stop buying ivory which is just simply used as trinkets and fashion statements. They are saying, "don?t do it, it?s killing elephants".
Fareed Khimani: just buy diamonds. What?s the problem? I mean, Jesus! I don?t understand. Anyway, so we are moving somewhere which is great. Now, obviously you have a lot more to tell us, a lot more stories coming our way. I did wanna ask you this, last week you… and I will tell you this, you tweeted a thing this morning. Was it… did you tweet this morning? You did, right? Saying you gonna be on the show from 7.30
Paula Kahumbu: yes
Fareed Khimani: response to you being here, I think my listenership goes to the roof when you are on the show.
Paula Kahumbu: oh! That's great
Fareed Khimani: so you can come back whenever you want actually. It could be you and of course the Samsung galaxy S4, which we are giving away on Friday, but regardless you are here which is great. So we have so much to get through today and of course we will still push the ways our listeners can help, what they can do and also a little bit of stuff you didn't know that this particular… can we call it a pandemic?
Paula Kahumbu: it?s a crisis. It's not just Kenya is a global crisis affecting elephants across the continent. Sudan has just announced their elephants have declined from 130 000 twenty years ago to fewer than 5,000 today.

Fareed Khimani: there you go
Paula Kahumbu: this is just a massive, just phenomenon decline of elephants.
Fareed Khimani: And we here in Kenya are the sort of the transport hub for the rest of the continent or partly one side of the continent anyway
Paula Kahumbu: we are the transiting hub which is what is so scary. You know; am just going to tell you something else Fareed which am not sure if you have thought about this. Those letters that a child from the US wrote to president Obama, to president Xijin Ping president of China and President Uhuru Kenyatta, it?s the most adorable letter. He says "Dear Mr. President for all the children and elephants in the world, we ask you from our hearts, please stop the elephant poaching in Africa and the illegal trade of Ivory in China. Poachers in Africa killing elephants because many people in China as well as other Asian Countries are buying Ivory which comes from the tusks of the elephant. It poachers keep killing elephants at this rate, they will extinct before we are even out of high school"
Fareed Khimani: My Goodness!
Paula Kahumbu: can you imagine this is a little child, who?s written to say, you know; can you imagine the world without elephants.
Fareed Khimani: that's ridiculous
Paula Kahumbu: think about your son, is four months old. What would it be like if he grew up and the only thing you could tell him about elephants is, have a look at this picture; when I was a kid they were around but they are gone.
Fareed Khimani: it will be almost like telling your kids about dinosaurs I suppose and in that respect.
Paula Kahumbu: Exactly
Fareed Khimani: that's really sad and that really puts it in the perspective as well and yes it's actually a fact if it doesn't stop before this kid or my son is out of high school we won't have elephants grazing in the bush.
Paula Kahumbu: it's really puts an imperative to our generation to make a difference.
Fareed Khimani: ok, but progress is being made and there is still more we can do. We will get more into it, more into details more into the nitty gritty
The destruction being caused both sides I supposes and how we help to improve the situation that is of course is our wonderful tourist attraction, which is our wildlife if you look at it in plain and simple terms the country will suffer, in terms of its economy if we continue killing this animals. However its not about our country?s economy its bout the lives of this wonderful creatures.
Paula Kahumbu: Of course and you know Fareed, as kids we grew up with these incredible documentaries on television and we fell in love with our nature and wildlife. At some point I will tell you a bit of why I do this but just want to tell you that you know, it?s not… I don?t think it?s fair to convince all Kenyans that the only reason why should save this animals is so the tourist can enjoy them,
Fareed Khimani: Right
Paula Kahumbu: Because, yes that a big economic imperative and that what we were told as kids, but think about it we would lose key species, this is part of our national heritage. Kenya really is the birth place of humanity, we evolved with these animals and I think that?s why we have this natural instinct to protect wildlife. I was just told yesterday that in Wajir, a community caught a cheetah that had just killed 10 sheep. Now in most part of this country you would expect the first thing to do is kill the thing and then call the KWS. These guys didn't do that, they held this cheetah for 2 days, fed it tied it then they matched it down on to the police station and they said to the police "you take care of this animal this is our national heritage".
Fareed Khimani: Really? What a lovely story
Paula Kahumbu: Exactly I think it's so extra ordinary that what we have is so special in this country compared to nowhere else in the world. Nowhere else is there the dawn of mankind really,

Fareed Khimani: It?s almost like a mothering sort of parenting type of outlook the story from Wajir.
Paula Kahumbu: And these are not people who are wealthy and care about cheetahs in way maybe a rich American might. So I think it?s really does…. It's something need to value, our
human connection to our natural environment, to the wilderness, to the wildlife species we evolved with and that why I think we are so attached to it.
But think about all the other elements of what happens when we have this poaching that escalates so Kenya as an international hub for trafficking of ivory means we are attracting criminal cartels to this country because it's easy to operate it here. It's easy because of corruption and because the penalties are so low, that means our cost for securing this wildlife is just rocketing, that means we are taking money from other areas of development or wildlife protection because we are so busy chasing down poachers, our economic growth is affected partly because of tourism as well but also just think of the economic potential of those communities who live in places with lots of wildlife. They can't promote wildlife because there are these gangsters roaming around with guns. Which tourist would go in place like that?
Fareed Khimani: They are afraid. Absolutely
Paula Kahumbu: So that clearly affects their economic potential but also affects them directly. Communities are being attacked by gangsters. If they can't find elephants they will actually attack people because they are hungry. They will even rape people
Fareed Khimani: Yeah, what's the deterrent now we talked about it last week; we have touched already on it this morning. Is it different penalties, different fines, but again you can double triple, quadruple a fine, some will bail this guys out. What is it really…what is in your opinion how we stop this from happening? Is it in education or is it a combination of many things.
Paula Kahumbu: It's absolutely a combination of everything so the reason why we are seeing these escalation is because partly impunity. The fact that the penalties are so low actually gives these guys license to keep doing this because they know they can get off. They can get off very easily, so we really need do to change this culture in the country – citizens have to take responsibility and help to restore order. But of course the legal side of it is very critical, The Wildlife Act is out of date; the penalties are too low; that needs to be reformed immediately. The Wildlife Act is huge, it covers all kinds of things but the most important thing that needs to be done right now as a crisis is to address the penalties. We can raise those penalties to the same level of economic crimes or organized crimes which is a minimum of 13 years in jail. That's what I want. In addition if you get charged with organized crimes, you can actually have all your
assets seized. Now, you know, if you are a dealer just being under investigation means your assets are seized your bank accounts are frozen. That?s a massive disincentive
But as you said big part is education and awareness especially in the countries where there?s demand. We can keep increasing the boots on the ground and everything but so long as the demand is where it's at in countries like China, Thailand, Vietnam, Philippines, Laos, we going to keep adding more and more costs in order to protect our elephants here. It will be a losing race.
Fareed Khimani: Is it …. Sorry I know you have more to say. Is it the more we develop the more we engage in foreign investments, the more we are at risk of losing what is our heritage. I mean that really,….and I know that its sad if it is but is that really … or is it not managing the investment properly not managing the influence properly from the west and the east and all this?
Paula Kahumbu: I think there are two things here, first as I said the demand is huge and the demand has nothing to do with Kenya engagement with any country, the demand is purely because people in Asia have got enough money to buy ivory and their governments in many cases even encouraging it. They have open legal ivory markets in China. The government in a way is agreeing, supporting enabling this trade, 90% of that ivory is illegal ivory. So what we are asking Asian governments to do is to crack down and actually close the ivory trade altogether in recognition of nature of this crisis
Fareed Khimani: But last time you were here you were also saying that a number of people that are wearing and buying the ivory think that when the elephants of rhinos die, the ivory, the tusk or the horn just fall off, that?s where it comes from.
Paula Kahumbu: So a big part of the problem is that they are very misinformed sometimes even by official figures will inform them. For examples in Vietnam, a minister told his people that he was cured of cancer because the rhino horn, this is why the price of the rhino has gone through the roof, because he has persuaded them that this thing which is equivalent to implying that chewing your fingernails can cure you of cancer. It is so ridiculous and yet so powerful because they believe in the power of the animal and size of the animal and the strength of the animal. So Yes, education is massive and it basically means we have to engage at many different levels, we want our president Uhuru Kenyatta to Engage the Chinese Premiere, the Thai Premiere, the
Vietnamese Premiere and actually show a new kind of leadership which we have never seen before.
A lot of people say we have our heads in the clouds, what are you doing? There is no way Kenya could do this. I don?t believe that. We were surprised when we saw the structure of our cabinet, I mean; I don?t think anybody expected that caliber of cabinet secretaries to be selected. We are also used to lowering our standards. I am saying, let?s break that roof.
Fareed Khimani: And it?s a possibility
Paula Kahumbu: Why can't Uhuru Kenyatta convene a meeting of all these leaders and actually discuss with them what could be done to reduce the demand or eliminate it all together, so that we save the species, it?s not just for Kenya, it?s for the world, it?s for the worlds? future children
Fareed Khimani: Come and see our elephants, absolutely.
I know we focus quite a bit on elephants and obviously that is a passion of yours and probably one of the biggest problems we have at this point is the ivory trade but it is not about just elephants we will get to that just a little, while I got a lot of questions since the last time you were here they are saying how is that you are this person that has become so compassionate towards the wildlife in this country and where did it all come from, so I think let's start with that because we are never really given, we know what you do but we don't know why you do it.
Paula Kahumbu: Well thank you for that Fareed it's such a unique opportunity to be able to tell this story I think that growing up in Kenya is the really the answer to why this country has probably highest concentration of conservations and experts in this field
I grew up in a part of Nairobi that was very wild, it was forested we had buffaloes, leopards and hyenas all over the place. I don?t if you know that am one of nine kids. My family was good Catholics, and we were sent out doors to play and that was our play ground and was literally in the forest the streams the swamps and our neighbor was Richard Leakey. I grew up I am the 6th born so I was very little and my elder sister we had this thing going that we had to catch everything that walks, crawls, or flies or swims or whatever, you catch it and take it to Richard Leakey and see if he knows what it is, because he was so smart and we were sure we will catch
him at some point. So we would catch snake, frogs and birds and take them over to him and he would tell us incredible stuff about them their scientific names , life histories and take them back where we found them and release them again. We were really good about that. I grew up surrounded by this incredible knowledge and this person who was amazingly accessible and so as I grow up, he was always there for me. As I finished high school I applied to university and it was way outside of the price range that my family could afford, my mother thought the best thing for this girl, at least, was that she can be a secretary. So I was sent off the secretarial college to learn how to type and do short hand and all this stuff that was mind numbing . And after the third month that was it I couldn't take it anymore of it. I ran away with a friend of mine and we got on a bus went to the national museums of Kenya it was the wildest thing I have ever done in my life. I was 17 old we went to national museums and we listened to a seminar about Kora National Reserve which is where George Adamson was and it was all about the research he had been doing. I knew then this is it this is what I wanted do and so I went to Richard Leakey's office and I knocked on the door and I said, 'I want to be a ranger' that was my world and all I wanted to do was be a ranger and work for George Adamson. Richard Leakey was phenomenon, he remembered me from when I was a kid, he talked to me about my grades and what I wanted to do and he said well you know, maybe you don?t want to be a ranger maybe there?s something else. I was sent around the country to these amazing places.
I went down to Amboseli and I spent 2 weeks with Cynthia Moss and her Maasai women who know the elephants down there and I got to learn about the elephants.
I spent 2 weeks with Jean Altmann and Philip Muruthi studying baboons also in Amboselli then I was sent to Kiwaiyu the island of the north coast which is famous now for tourism but at the time was so interesting about Kiwaiyu is not just the beaches but there were monkeys on the island. They are separated from the main land and probably has been separated for than thousands of years.
Fareed Khimani: Are you serious? I don?t know that."
Paula Kahumbu: There are baboons and vervets on that island that are somehow surviving in a marine kind of environment,
Fareed Khimani: "bizarre!"
Paula Kahumbu: where there no fresh water, they were interested in physiology of this and you know it?s interesting and it?s not what I really wanted to do. I was sent to the Tana river which is you know quite a dangerous place but the time for me it was just a phenomenal play ground, full of wildlife and I got to work with scientist such as Margret Kinnaid who now runs Mpala research center, she was studying one of the most endangered primates in the world the crested mangaby, and so I had this amazing experiences I ended up at the Institute of Primate Research also working with primates and it was just this incredible emersion as a 17 years old with these top scientist.
And then I was invited by Iain Douglas-Hamilton who I know is listening into the show and Iain invited me to help him to conduct a stock take of Kenya?s ivory so we took all the ivory out of the vaults which that time at the national museums of Kenya.
We measured each and every tusk, it's a really depressing experience because this ivory represent elephants that have been shot, murdered. There were huge tusk and the y were down to tiny tusks and what we were able to show, working with a whole team of volunteers ,was that over the last 15 years is that the size of elephants being poached had decline and declined until we were actually shooting baby elephants. It put me off doing research to elephants and I said to Iain these animals are going extinct, am not going to invest my degree research on a species which is going anyway.
Fareed Khimani: So your emotion and passion and love is wow! I mean it?s something that going to be gone soon I suppose
Paula Kahumbu: Exactly, so I really have Richard Leakey, Ian Douglas Hamilton and all these other people I have just mentioned to thank for having the confidence in me and really giving me the space to learn, participate and contribute at a search a young age, it really made a huge difference for me.
Fareed Khimani: So you once run away from home and left home without your parents knowing and all of a sudden we go on a few years and here we are now and this incredible woman sitting opposite me with so much passion and love for the wildlife of our country. Do you mentor now as you were mentored by those wonderful people. Do you mentor and are you trying to raise the next generations of doctor Paula Kahumbus?
Paula Kahumbu: Absolutely, I think that Kenya is blessed with having these phenomenal resources of incredible capable people. I work with a lot of schools and I do talks in schools and I participate in all kinds of school event to tell kids what I do and really inspire them to get involved in wildlife conservation and its not a particular sexy of fashionable thing to do so we try and convert it into other areas of interest and last year, I met this amazing boy as part of research we were doing on lions this term. we are looking at the human-lion conflict in Kitengela just south of national park and there was one particular homestead that was not getting attacked and it didn't make sense because they were right next to the national park. All the homes around them were being attacked by lions but this home wasn't and there was this little light around this homestead on the outside shed of cow stockade, the boma. They told us this was the little boy invention, he was 10years old and he had come up with this amazing system of keeping lions away from his fathers homestead by tricking them into thinking he was awake at night walking around because the lights blink in such a way it looks like somebody is awake walking around all night long.
Fareed Khimani: I have actually read about this kid, so this is an incredible story. So basically this lights makes it look like someone is a watch walking around with a touch basically. That is incredible.
Paula Kahumbu: It is really amazing, his name is Richard Turere, so he is now my mentee, I am his guardian.
Fareed Khimani: Super!
Paula Kahumbu: The first thing I did before we even went public with this thing is we got him a scholarship to Brookhouse school so you know huge kudos to Brookhouse school for recognizing, he?s a kid from rural area going to a local school, they took him immediately, he spent a year there and you would not recognize him this boy from where he was a year ago and where he is today I went with him to the US, first time he ever went on an airplane, you know his dream is to be a pilot and an engineer, so the first time he ever went on an airplane was to fly to the long beach California and tell the world about his invention, he got a standing ovation.
embedded by Embedded Video

YouTube DirektTurere at ted 2013 [youtube Richard Turere at ted 2013 http://www.youtube.com/watch?v=RAoo--SeUIk]
Fareed Khimani: Are you serious?
Paula Kahumbu: He got more attention for his talk that most of the other TED speakers.
Fareed Khimani: That?s brilliant.
Paula Kahumbu: I can?t wait to see it on local television as now they are airing TED talks
Fareed Khimani: That's super, that's wonderful. So, there are thousands of kids like this who have this ideas and who can make a difference so if it's your kid, this is to my listeners or anyone you know please encourage them that it doesn't have to be my parents considered a profession growing up, it can be about saving our environment like what you are doing and proof is here opposite me that it is a proper position in life and what a position to be in, you are in a great position Dr. Paula. if you have questions we have tones more of time am not letting this lady leave until we are done so please get to me, you could tweet us, it?s very easy you can tweet myself @fareedkhimani or you can tweet @paulakahumbu.
Transcribed by Loise Njagi_ (Intern at WildlifeDirect)
For more information contact Paula@wildlifedirect.org or pkahumbu@gmail.com